24.08.2018
Client news
Moving toward performance-based networks.
MedImpact discusses trends in value-based pharmacy reimbursement in Chain Drugstore Daily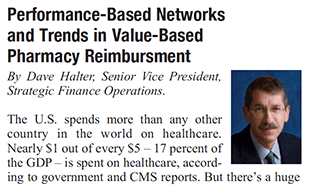 In a recent issue of Chain Drugstore Daily, Dave Halter, Senior Vice President, MedImpact Strategic Finance Operations, offers insight on performance-based networks as the industry shifts toward value-based pharmacy reimbursement. Halter's article appeared on the Aug. 25 cover of the tradeshow publication released at the 2018 National Association of Chain Drugstores (NACDS) conference in Denver Aug. 25-27.
Closing the gap between expenses and outcomes.
The U.S. spends more than any other country in the world on healthcare. Nearly $1 out of every $5 — 17% of the GDP — is spent on healthcare, according to government and CMS reports.1 But there's a huge gap between the expense and quality of outcomes.
Our nation's unsustainable healthcare costs continue to fuel the industry focus on lower-cost, high-impact interventions to reduce costs and improve quality outcomes. While past efforts concentrated on decreasing individual pieces of the healthcare puzzle, the industry now recognizes it's more effective — from a cost and patient outcomes perspective — to move toward a healthcare delivery model based on performance, value and outcomes.
As the industry migrates away from fee-for-service reimbursement models and moves toward pay-for-performance, pharmacies will no longer get paid simply for providing services like dispensing drugs. Instead, performance on achieving quality improvement like increased adherence will drive results.
For example, CMS provides substantial financial bonuses to health plans based on their ability to measurably impact performance. While public and government programs lead the shift to outcome-based reimbursements, all markets seek tangible changes in how our healthcare systems are incentivized.
Performance-based reimbursement positions pharmacies and plans to maxmize savings and improve care. Research reveals that every $1 invested in pharmacist clinical services results in nearly $5 in cost savings.2
Nonadherence costs $100 billion to $289 billion annually — 13% of total U.S. healthcare expenditures.3 Improving outcomes is a major impetus behind the shift from volume, or service-based models, to value, or performance-based models in pharmacy.
Driving high-performance pharmacy networks.
PBMs can help improve outcomes and reduce costs by offering high-performing pharmacy solutions that drive quality care by influencing behavior change, increasing clinical value and improving adherence, safety and member service.
Pharmacists can help improve adherence and avert downstream adverse events by performing comprehensive therapy reviews to resolve medication-related problems. Research reveals that retail pharmacists are the most influential healthcare "voice" for getting patients to take medicine as prescribed.
High-performance networks like MedImpact's MedNetwork® — a transparent high performance network that leverages advanced analytics and reporting that score and rank pharmacy performance — help increase adherence, maximize quality outcomes and reduce costs across all channels:
Pharmacies can maximize outcomes and differentiate their pharmacies with enhanced clinical consultative services beyond dispensing to improve adherence and enhance member experience. Transparent, data-driven performance metrics in comparison with non-participating or low-performing networks can increase sales and volume.
Members can increase adherence and improve outcomes with deeper pharmacist engagement.
Health Plans can improve outcomes — quality, financial and member — with transparent pharmacy performance reporting.
In addition, our Pharmacy Q-Card™ provides pharmacy benchmark reporting that enables plans to evaluate and reimburse each of its network pharmacies according to quality and financial performance scores to help improve care quality and reduce costs.
To learn more about how MedNetwork can help improve quality care, promote network selection, grow volume and optimize value-based returns, email us at info@medimpact.com.
1. Centers for Medicare and Medicaid Services:https://www.cms.gov/Research-Statistics-Data-and-Systems/Statistics-Trends-and-Reports/NationalHealthExpendData/Downloads/ProjectionsMethodology.pdf
2. Annuals of Internal Medicine and Forbes:http://annals.org/aim/fullarticle/1357338/interventions-improve-adherence-self-administered-medications-chronic-diseases-united-states;https://www.forbes.com/sites/tomasphilipson/2015/05/08/non-adherence-in-health-care-are-patients-or-policy-makers-ill-informed/#46ed4c2b4c4a
3. Evidence of the Economic Benefit of Clinical Pharmacy Services;Pharmacotherapy: https://www.ncbi.nlm.nih.gov/pubmed/12523470
Read on.
Keep up to date on the latest in the industry.